Choose Love Ukraine Crisis Fundraising Exhibition Opens at London's Royal Albert Hall
Contemporary artists including Rankin, Marc Quinn, Pandemonia, Rob Ryan and Nina Mae Fowler donate limited edition prints to raise funds for Choose Love's humanitarian work in Ukraine
Choose Love and the Print Club London have collaborated on an exhibition of limited edition prints that will be exhibited at the Royal Albert Hall from 8th June to 8th July, with all artworks for sale to raise funds for the Choose Love Ukraine Crisis Fundraiser.
Artists who have made prints for the exhibition using the iconic Katherine Hamnett designed 'Choose Love' slogan are; Andrew MacGregor, Caroline Tomlinson, Ceal Warnants, Craig Keenan, Dan Baldwin, Danny Minnick, Dave Buonaguidi, David Newton, David Shillinglaw, Gavin Dobson, Jenni Allen, Jenny Bell, Lucy Mahon, Marc Quinn, Margaux Carpentier, Mr Bingo, Nina Mae Fowler, Pandemonia, Rankin, Ricky Byrne, Rob Ryan, Rose Electra Harris, Rose Stallard, Seraphina Neville, Setsuko Maho, Steve Duwensee, Stuart Forrester and Venetia Berry.
The artworks are available to buy (with prices ranging from £150 – £1,500) with proceeds going to the Choose Love Ukraine Crisis fundraiser. As well as the limited edition prints, newly commissioned postcards and tote bags are available in the Royal Albert Hall gift shop, with proceeds being donated to Choose Love.
View the art here, and you can purchase from the website if you can't make it to the Royal Albert Hall exhibition: https://printclublondon.com/featured/choose-love-collection/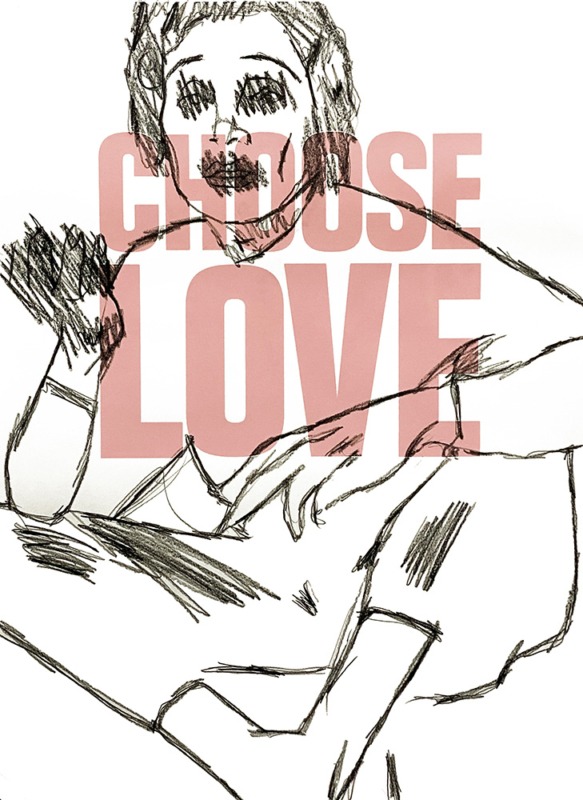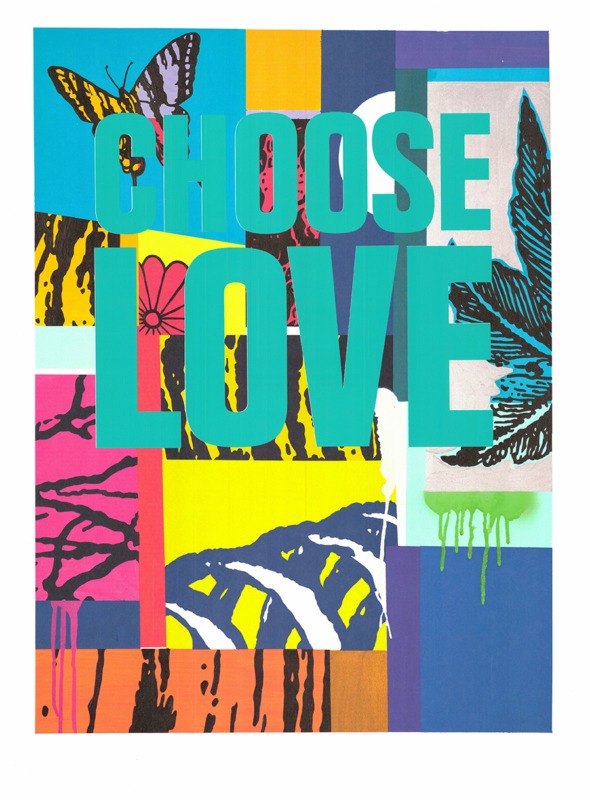 "We are over the moon to be exhibiting at the iconic Royal Albert Hall, with our friends Print Club London. The artworks have been created, with love, by the most incredible group of artists who have donated their works to help raise funds for our work, with refugee communities, all over the world."
Choose Love has raised millions to support refugees and created a movement of people putting love into action around the world. 100% of profits from artworks sold will go to their work supporting refugees all over the world.
Print Club x Choose Love
Choose Love have collaborated with Print Club London London since 2018. Over the past four years Print Club London have been collaborating with emerging and established artists on the Choose Love collection. Through the sales of the exclusive prints and fundraising exhibitions Print Club raise money in support of the charity Help Refugees. The project launched with an exhibition at Somerset House on World Refugee Day in 2018 and the collection has grown since, travelling to Pikes Ibiza, Somerset House in London, and producing sell out prints for the Help Refugees Choose Love pop up store.
Choose Love does whatever it takes to provide refugees and displaced people with everything from lifesaving search and rescue boats to food and legal advice. They elevate the voices and visibility of refugees and galvanise public support for agile community organisations providing vital support to refugees along migration routes globally. Choose Love is a small but passionate team of people driving a fast-paced global movement across 15 countries. Only five years since launching, Choose Love have reached 1.8 million refugees and raised tens of millions for nearly 150 organisations providing vital support at every stage along migration routes from Europe to the Middle East and along the US-Mexico border. For more information about Choose Love visit www.chooselove.org
https://printclublondon.com/choose-love-print-club-x-help-refugees/